For us Vienna was not as much about visiting the city but about visiting my brother. My brother, Steve, has lived in Vienna for almost 30 years. He is a violinist in the Radio-Symphonieorchester Wien, the Vienna Radio Symphony Orchestra.
His girlfriend, Yoshiko, plays viola in the same orchestra. She started playing in Japan at the age of four. Steve got his start in music in the fourth grade music program at his public elementary school in Iowa. It always amazes me that now he plays in an orchestra in Vienna.
We were lucky to watch them as their orchestra rehearsed Schubert's 8th symphony (The Unfinished Symphony) and the overture to Johann Strauss' Die Fledermaus. It was thrilling watching the orchestra without the formality of a concert. Lots of chatting and laughter and then suddenly the hall was filled with beautiful music. Just as quickly, the music stopped as the conductor clarified things with the musicians. A real back stage view of Vienna.
Steve describes the music scene in Vienna as unique. His orchestra performs many new compositions.  They may need to rehearse these for weeks or months. They may be pieces which are performed for only three or four days ever, but, he says, the house is always packed for these concerts. There is no other city which takes contemporary music so seriously and no other city that would support an orchestra that spends so much of its time rehearsing.
Steve's connections also got us free tickets to a classic tourist adventure in Vienna, the Mozart/Strauss performance in the Orangerie in the Schönnbrunn. This is where Mozart and Salieri (remember the movie Amadeus) competed with each other in performances of their music. Salieri won apparently, although Mozart's music has remained immortal.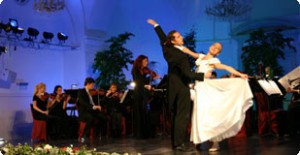 The performance itself was fun with a tiny orchestra playing 5-6 minute long concertos by Mozart and Johann Strauss. A tenor and a soprano would occasionally come out and sing an aria, and two dancers entertained with waltzes and ballets. It was amusing, perfect for the kids with fun, accessible music. Unfortunately, Yoshiko had described her experience as a substitute in this tiny orchestra which rarely rehearses making me realize that free was the best price. This is an orchestra supported by the tourists. We helped fill the house. And we had fun with music in Vienna.