Our friend Yusuf 's mother, Adalet, lives in Kaş in southern Turkey. We spent three weeks with her.  Adalet lives in the main house in the winter. In the summer she moves into a cabin in the back; her guests stay in the front with a view out over the sea, a Greek island only kilometers away.
Adalet has four children all of whom she taught to cook.  Yusuf lives in the Oakland and works as a chef at Ruth Chris' Steakhouse in San Francisco.  His cooking is part of what inspired us to visit Turkey.  He is one of my favorite chefs.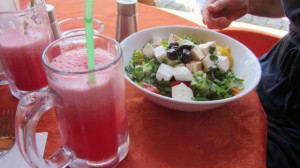 Mürena owns a cafe, Dennis Cafe, in Kaş.  We ate many delicious meals of classic Turkish fare there.  Rıza works as a chef in one of the restaurants overlooking the sea in Kaş.
 There we enjoyed a meal of seafood, steak, and pasta listening to the waves roll in below our deck.  Adalet's fourth child Nazik does not work in a restaurant.  But she cooks.  In the summer she lives in the back of her house with her mother and takes care of the house and the guests.  It was her food we ate the most of.  She took good care of us.
Our first morning in Kaş the whole family gathered on the front porch for breakfast. Aunts, uncles, brothers, sisters, cousins were all ready to share a traditional Turkish breakfast with their American guests.  
There was an assortment of fresh breads: a loaf of crusty white bread, some soft rolls filled with herbs, some with their crusts strewn with sesame seeds.  There was a hard salty cheese similar to feta and a softer yellow cheese.  Potatoes with hard boiled eggs strewn with herbs.  Tomatoes, cucumber, green peppers, and olives.
Fresh peaches and grapes. Homemade strawberry jam with whole fruit and apricot marmalade with roasted almonds mixed in. A pot of stewed zucchini with onions and tomatoes. And lots of tea. It was one of my favorite breakfasts of all time.
Often in the morning I sat on the porch watching the light change on the sea and on the island as the sun moves across the sky. Occasionally, when the sun was reaching its high point in the sky Nazik came out on the porch bringing Turkish coffees and cookies to share. We sat together mostly silently as neither of us speak the other's language. We watched as the boats come in and out of the harbor and as the light changed on the sea and island. She was waiting for her husband, Ahmet, to return from his morning as the captain of a dive boat.  I was waiting for Bill and Hank to return from diving.
In the afternoon, after Ahmet again returned from his afternoon adventure on the sea, it was teatime. In Turkish tea is called çay (pronounced chai like in India). The black tea is prepared in a kettle, boiled for 15 minutes then steeped for at least another 5 minutes. It is poured strong from the kettle, but only half a glass is served. 
The tea kettle rests on another kettle of hot water, and the hot water is used to dilute the çay to taste.We drank the çay from traditional tulip shaped glasses, no handle, but rather a coaster underneath to hold the steaming hot glass.
Kaş is full of restaurants, and we were surrounded by them.  We counted at least nine on our little block. We eat at many, however. Still we took advantage of their proximity. When there was food to be grilled Nazik would hand the chicken or fish to one of the chefs near by. He'd grill the meat over the coals, and we got perfectly cooked meat, peppers, and tomatoes.
One evening Nazik asked the restaurant next door grill the sea bass we had bought in town with her husband.  With the fish came a chopped salad of lettuce, green onions, and arugula dressed with oil and lemon juice. Fresh vegetables including slices of red onion and shredded carrots were on the table to eat with the fish. There was so much food that night we couldn't even get to the plate of sauteed vegetables topped with yogurt.
During lunch or dinner Nazik will often add to our table green beans, okra, even grilled chicken.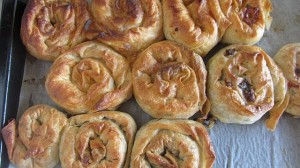 One day a steaming tray of börek came to be shared at lunch.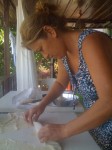 The dough was crispy and buttery on the outside, soft and chewy on the inside. Some were filled with meat, some with cheese, both flavored with green onions, parsley, and dill.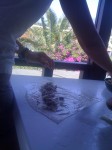 Yogurt, red pepper oil, and mint topped the börek.  Beans and pickles accompanied the dish.  The day we left Nazik taught me how to make the börek.  I cherished this time together.
One afternoon at tea, lentil balls were on the table. We wrapped the soft, spiced lentils in lettuce with mint, lemon, and pomegranate syrup. We were hungry. We couldn't stop eating. Dinner's bread (a special flat bread orpide for Ramadan) was handed over the fence from the restaurant next door.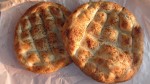 We soon devoured the loaf. Seeing we were hungry, Nazik added green beans stewed with tomatoes to the table. Tea time became dinner for us as our hosts, smiling, watched us fill our bellies.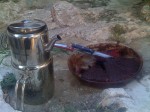 For Hank's 14th birthday, Nazik baked a huge chocolate cake with whole sour cherries inside. It requires a little care to eat as the pits are still in the cherries.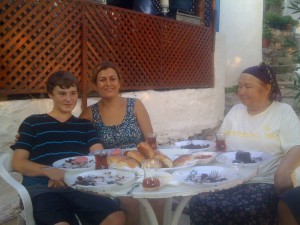 Still there is no stopping my family from relishing the gift. Nazik had also baked soft rolls filled with salty white cheese, parsley, and dill.  Of course, many glasses of çay were served with the cake.
At all times there is watermelon in the refrigerator, ice cold. At the beginning of our stay I bought a watermelon that was so mushy I had to throw it away.  Nazik found out.  After that I was provided with firm, sweet, juicy melons delivered to the door. Nazik brought over her juicer.
She taught Cat how to juice the watermelon. Cat began juicing watermelon, peaches, grapes, whatever fruit she finds. She made orange juice using the orange press for the most perfect juice, sweet and tart, never bitter, never bland.
One Friday morning Nazik took us to the weekly market. Stalls were filled with fresh fruits, vegetables, spices, nuts. We ate breakfast there.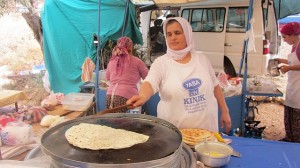 Gözleme (lavash like pancakes) filled with cheese, parsley and onion as well as flat breads filled with cheese were heated on a large grill then cut up to share. Nazik knew everyone at the market.  She was given tomat
oes, cucumbers, peppers, and chilis which she cut up at the juice maker's table and served with our breads. Large glasses of fresh squeezed orange juice quenched our thirst. A breakfast that surely beats oatmeal.
We have been eating like pigs here. Funny in a land without pork. But the food is so fresh and delicious, mostly vegetables and fruits. I've actually lost weight. Sitting on the porch watching the light change with new Turkish friends. This is the diet I love.