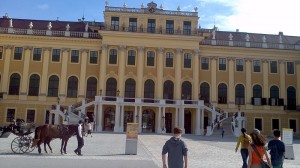 Vienna is full of old stuff.  It was the capital of a major empire for centuries and has all of the trappings of royalty. The Hapsburgs who ruled from 1200 to the end of WWI built multiple stately and ostentatious castles, including the Schönbrunn, their "summer palace". The palace is, of course, huge with lots of grandiose rooms, I'm sure, but we didn't buy the tickets to go in.
We spent our time roaming the garden paths full of statues of Greek and Roman gods as if the royals were themselves acquainted with Poseidon. The fountains were huge and combined the statues of the gods with artificial stalagtites and and vines giving is an gooey, organic touch.
There is a dove sanctuary for the royal birds as well as beautiful, symmetrical flower gardens, a rose garden, and a zoo (an animal garden or Tiergarten in German).
Our favorite part of the grounds, however, was the labyrinth and maze. The maze was made of 3 meter high shrubs with one entrance and one exit but multiple blind paths. At the end we climbed onto the platform to watch as others got stuck in a dead end and had to retrace their paths. Within the labyrinth were multiple games: a glockenspiel played by stomping on it, a room of mirrors, large springs with wooden platform for jumping, and a long winding path through the labyrinth. We had a lot of fun with the mirrors.