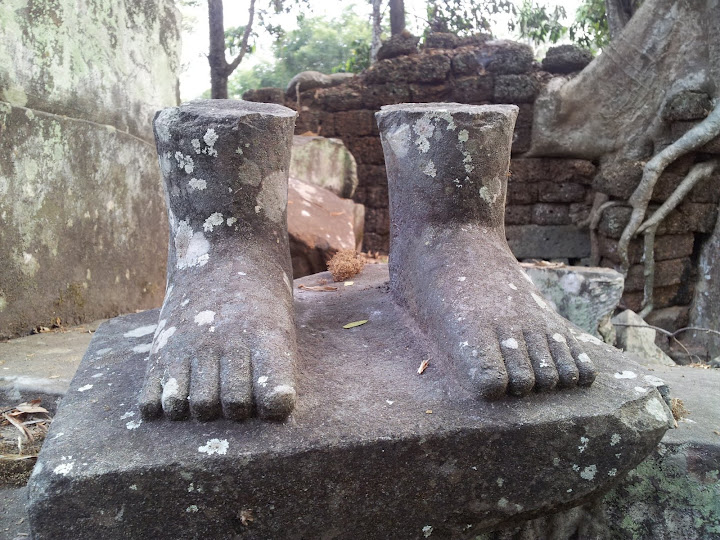 It's the end of summer and time for school to start.  We got a list of school supplies we're supposed to buy for Catherine.  In the package of papers is a note from her PE teacher.   Cat is supposed to have "sports shoes with traction, laces and arch support".  The PE teacher was quite specific about her request.  Converse and Van sneakers, she says, are not the proper shoes for PE.  When I read this, I could only think about all the different footware worldwide and what people can accomplish without the proper shoe.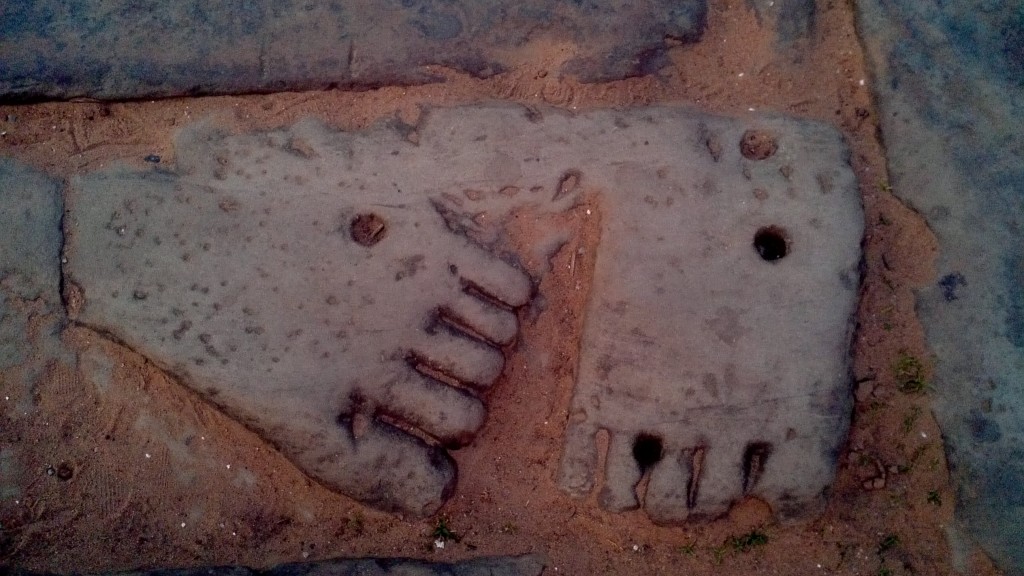 Most people wore sandals.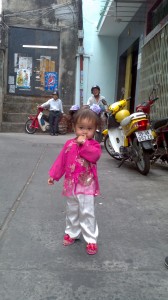 Many of the sandals were leather, usually plain leather thongs or slides.  Sandals were also made of rubber, jute, or often plastic.  There were the sandals at Lake Titicaca, up at 14,000 feet, made from old rubber tires.  We also saw sandals similar to these down at see level in Cambodia and in the war museums of Vietnam.  Most sandals were plain, but sometimes the straps were engraved, painted, or even bejeweled.  I bought a pretty pair of flip flops in Nairobi from a women's work collective.  The straps were leather and decorated with hand made ceramic beads. The soles were made of old tires.   In Ho Chi Minh City, the capital of western clothing manufacturing, we bought discounted flip flops from Nike and Abercrombie & Fitch made of rubber, plastic, and nagahyde.
We saw sandals everywhere on everyone.  Muslim women in Doha with their faces covered in veils and their bodies covered with robes had their toes peeking out below shod in sandals covered in brightly colored jewels.  Porters on the trail to Mt Everest carrying 60 kg loads and wearing Converse knock-offs sped past us up the hill.  Even more depressing were the porters who were beating us up the trail wearing only sandals on their feet.  Cambodian soldiers fighting a war on the border with Thailand kicked the dirt in flip flops.  Sandals waited for their barefoot owner as he raked rice out to dry on a temple plaza in Battambang.  We watched in Kerala as workers carried heavy bags of lime to load into boats shod only in flip flops.  A little boy in northern India with stumps for legs used sandals on his malformed hands to dash across the yard of his orphanage.  Our child pilot on Tonle Sap Lake in Cambodia kicked off his flip flops to power his boat.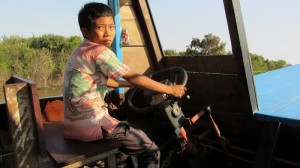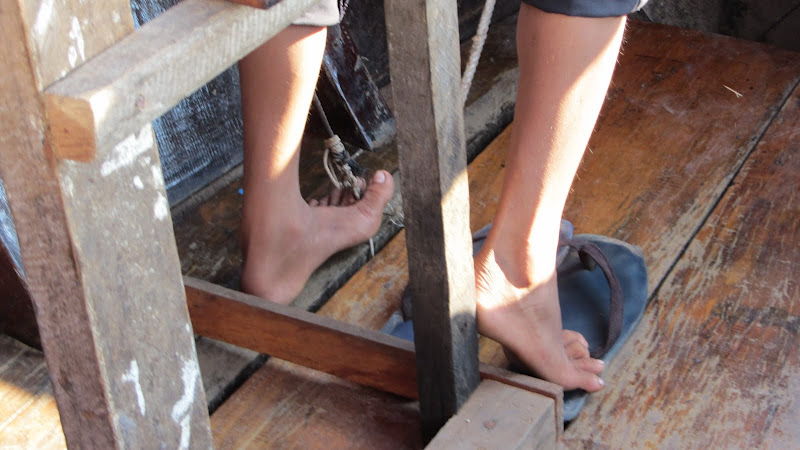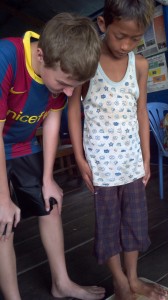 And there are many people who don't have even flip flops to remove.    Barefoot children were common on the island of Lamu and the slums of Nairobi.  There was no reason to wear shoes on the beaches of Kerala, the sand was so clean and soft.  And no reason to wear shoes living in a floating village on Tonle Sap Lake.  Kids sold their wares at the temples of Angkor Wat with nothing on their feet.  A German hippy living at the organic farm in Thailand performed all his chores without shoes.  And there was the field hockey team in Haridwar who had no uniform let alone cleats.  They played in their salwar kameez  and bare feet.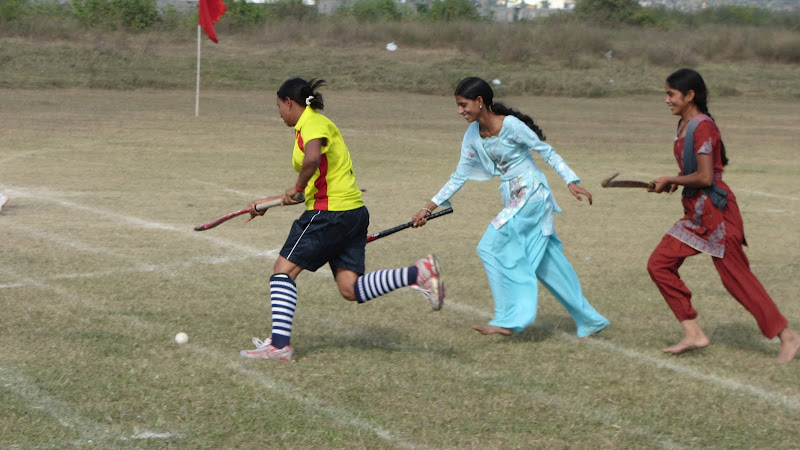 There were a number of places where our shoes were not allowed.  At the Blue Mosque in Istanbul shelves lined the entrance for storing shoes of the faithful and the visitors.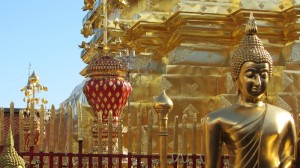 The little temple at the orphanage in India had shoes scattered about in front of the door twice a day as the kids entered for aarti.  At Doi Suthep, a temple filled with buddhas and gold stupas in Chiang Mai, shoes were heaped in front of the entrance, while at the Akshardam temple in Delhi an attendant demanded a few rupees to ensure the safety of our pairs of shoes.  At the Taj Majal shoe covers were provided.  Bill used them.  I just took off my flip flops.  In Indonesia we took off our shoes before entering temples but also before entering home and stores.  After months of taking off our shoes it felt sacrilegious to enter a cathedral in Peru wearing shoes on our feet.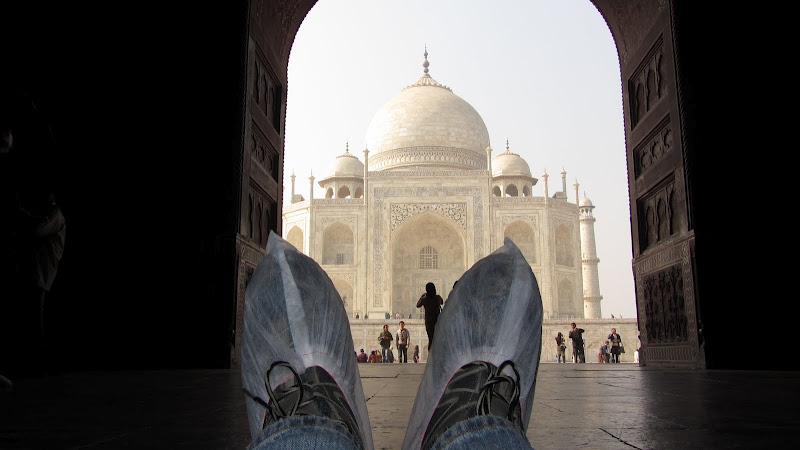 There were, of course, the places which demanded the proper shoe.  Hiking in Peru and Nepal would have been much more difficult for us down the steep trails in flip flops even if the Nepalis could do it with heavy loads on their backs.   For our hike in Nepal we went shoe shopping along the Rajiv Chowk.    There were plenty of stores selling running shoes: Nike, Reebok, Adidas.
 Every  400 meters or so the stores began to repeat:  Nike, Reebok, Adidas.  Rich Indians seemed to buy the proper shoe.  Still in Bali the proper shoe for the hike to a waterfall turned out to be our flip flops.  I had to run back to the hotel to grab Bill's pair as his sneakers were slipping all over the wet trail.   The snake handler at the Red Cross in Bangkok wore rubber boots, not flip flops, when exhibiting the king cobra.  In the big cities of Singapore and Buenos Aires the flip flop was not the proper fashion for a city.  In Buenos Aires my shoes weren't the right ones for  tango lessons.  I was wearing sneakers.  They would never do, I was told.  I needed a pair heels.  When Bill and I finally took salsa lessons in Guanajuato I discovered it was true.  I couldn't dance in flipflops.  I danced barefoot.  On my tip toes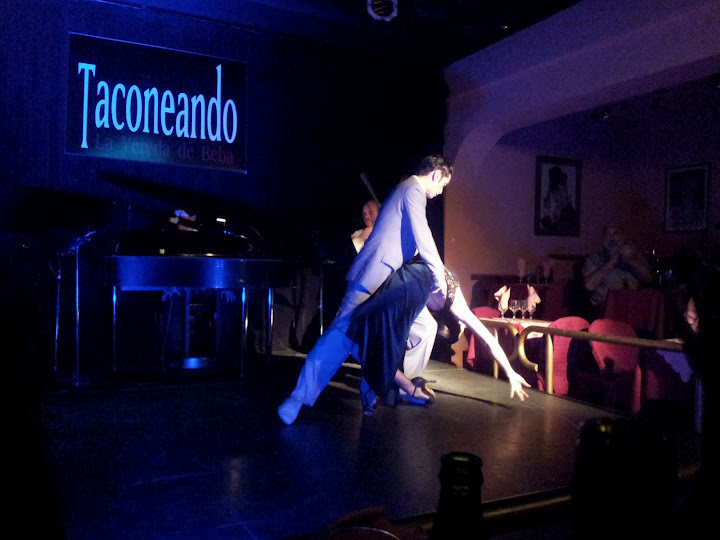 All of us are still preferring our flip flops now that we're back in Oakland.  But Bill and Hank have switched to sneakers for work and school.  I'm wearing my flip flops around town and on long walks, but my feet are in clogs at work.  Cat bought some ballet shoes for fashion but loves walking around in the green flip flops she bought in Saigon.  On the trip Cat took a pair of running shoes.  She wore them hiking in the canyons of Nepal and Peru.  They traveled wrapped up in a plastic bag as she once stepped in dog poop somewhere in India.  Their soles are pretty worn and the insoles have just a little cushion left.  But they look the part for PE, and she'll use them at school.  It's hard for me to invest in shoes she'll barely wear.  I understand the PE teacher's need for good, safe footwear for her students, the proper shoes.  But I'll always be thinking about all the hard working people in flip flops around the world.  And I'll remember the joy of the barefoot field hockey team in India, poorly equipped but out on the field playing nevertheless.