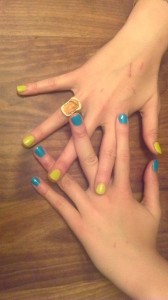 The last day of summer for Cat was a sad day.   She started crying.  So we went out and got our nails done.  She got a "mani-pedi".  She had one hand painted yellow, the other blue; she had the same for her feet.  I only got my feet done.  I chose a traditional red color for all my toes.  The colors on our toenails popped as we walked out of the salon wearing our flip flops.
At the end of the first week of school, Cat and I were riding our bikes home together.  She was behind me and somehow hit her front wheel up against my back wheel.  Out of the corner of my eye I could see her swerving.  Then I heard the crash of her bike as it hit the asphalt.  Her bell made a small ping.  I looked back.  She was sprawled out on her stomach, her eyes wide in fear, shock, and pain.  Her sobbing quickly followed. She had scraped her knee, and she had scraped her elbow.  But worse a big chunk of skin had ripped away from the tip of her big toe.  Blood oozed out onto the ground leaving large dots of red on the sidewalk.  People came by and offered help, one with tissues to help stop the bleeding, a few with first aid kits.  A neighbor ran home to get us bandaids.  He came back with the perfect one: the fingertip style.  I was a happy doctor mom.  Until he said, "I guess that's what happens when you wear flip flops while riding bikes."  I stood up in quiet anger and grabbed one of her flip flop.  It had been stuck flat between her chain wheel and her bike.  I had to pull hard to get it out.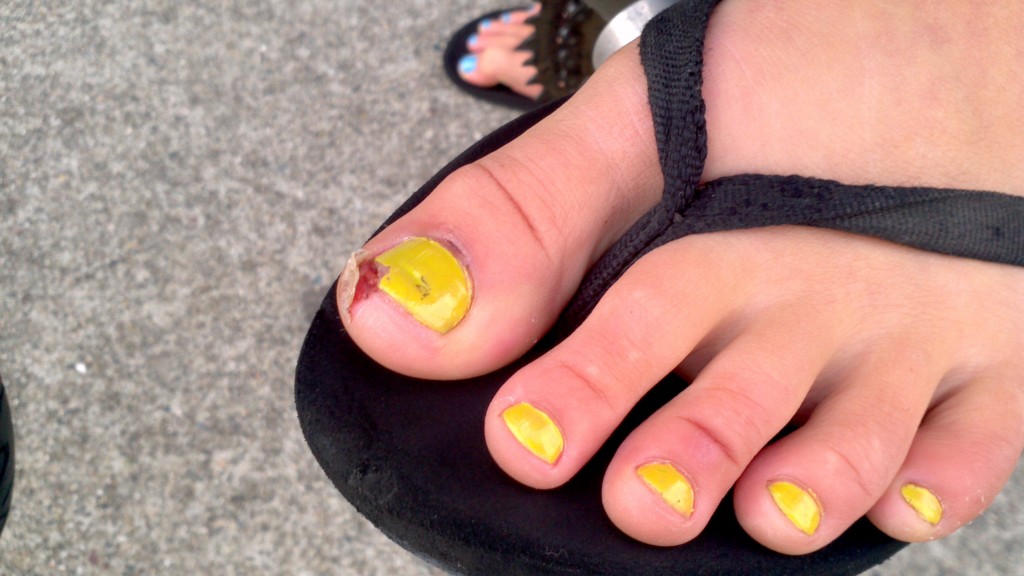 For the weekend Bill and I left the kids in Oakland and went to San Francisco for our anniversary. We spent the afternoon walking all over the city.  We ate tacos in the Mission, admired Ken dolls in the Castro, and shopped for boots on Fillmore Street.  It was a full day of city hiking.  Despite stepping in a mud puddle at Delores Park, I had walked for miles wearing my flip flops in complete comfort.  But as we headed out from our Union Square hotel I stubbed my big toe stepping on a curb.  Hard.  I walked to North Beach with an aching toe and a big scratch in my nail polish.  We took a taxi back to the hotel.
I always knew flip flops had their dangers.  In my last post I talked about what people wear on their feet around the world.  I wasn't denying that shoes are safer.  But I didn't think the gods would feel the need to prove it to me so quickly.  I'm in the market for boots.