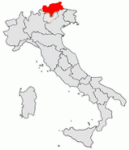 I should have guessed this wasn't really Italy.  I mean, look at the name.  Südtirol.  There's an umlaut.  And look at the map.  It's as close as you can get to Austria in Italy.  
There are Italians who live and die speaking Italian here, and there are plenty of Italian vacationers.  But this is the Alps.  There are sausages and sauerkraut.  Oompah bands.  Lederhosen and dirndls.  It's really hard to remember you're in Italy.  Daniela and Paolo had told us about this area, recommending the towns of San Candido and Dobbiacho in Val Pusteria.  Turns out, the locals call these towns Innichen and Toblach.  It was time to speak German.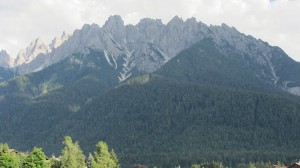 These are the Dolomites where the Via Ferrata was built during World War I.
 Fixed iron cables and ladders helped troops from Italy and Austria fight over this rocky, inhospitable environment.  Italy won the land after the Austro-Hungarian Empire fell.  Now it's an Italian vacation destination for adventure travelers with rock climbing (often using the iron cables and ladders from the war), hiking, rafting, and skiing.  Val Pusteria has been developed for the tourists with programs and transportation making it one of the easiest places to start a mountain adventure.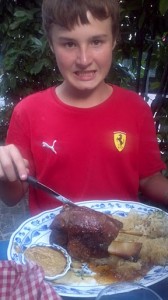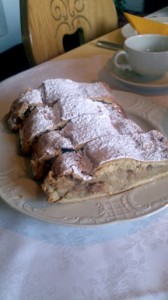 We started our adventure eating.  Again, even though the Italians won the land, the Austrians still dominate the culture.   Our first night in Südtirol Hank ate a huge hunk of pork with sauerkraut.  Bill ate ribs with sauerkraut.   Sauerkraut ended up in many of our green salads, even in Italian restaurants.  For breakfast we ate brötchen, cold cuts, cheese, müsli, and, yes, apfelstrudel.   We were getting the energy we needed for playing in the mountains.
We began playing in the trees with ropes, carabiners and harnesses.  At our kids school, early in the sixth grade, the kids attend a ropes course.  This was one of the reasons Cat was sad to leave home.  She had been looking forward to this experience with her friends.  
I promised her that at some point during the year she'd get to try at least one ropes course.  When I saw the ad for the course I knew it was time to fulfill my promise.  Cat loved it.  She pushed through the challenges way ahead of her parents, easily grasping the safety techniques with the carabiners.  She quickly gained her balance on the wavering foothold and let go with joy as the zipline took her down to the next platform.  The final, most challenging course gave her pause.  The initial path between platforms was scary, but with her own technique she made it across.  
Hank joined Cat on that course and stayed behind her, encouraging and advising.  Because it was the highest of the courses she was rewarded with the best of the ziplines.  She was grinning ear to ear when she was done.  Watch her here.