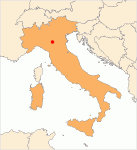 I don't know how the Italians do it.  How can such little towns have such amazing the restaurants?  Bagnolo in Piano has less than 10,000 people in the Po Valley.  It is a farming community with a parmesan factory.  Not much else.  Except for a Michelin guide recognized restaurant.
Trattoria da Probo was opened 10 years ago.  Daniela and her sister, Chiara, run the front room of the restaurant.  Chiara's ex-husband is the chef.  The theme is authentic regional cooking. During our visit Daniela treated us to lunch here.  Daniela had taken the week off work at the restaurant to vacation with us.  Her sister Chiara was kind enough to serve us our lunch including opening a delicious, dry regional spumante, a 2010Colli di Parma.  Prego, Chiara.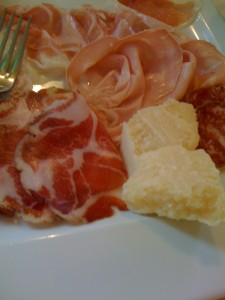 Antipasti began the meal with four versions of pork.  Remember, this is the Iowa of Italy.  Lots of pigs.  But somehow what Italians do with pork resembles in no way what I grew up eating.  There was prosciutto, coppa, pancetta, and salami.  The meat came with gnochetto, deep fried squared of pasta all puffed up and warm.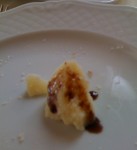 For my vegetarian daughter there was local parmigiano reggiano from cows fed a very special, centuries old diet.  They eat only the hay and alfalfa grown in the region.  Along with the cheese came aged balsamic.  The balsamic spends years in various wooden casks becoming thick and syrupy,  the perfect sweetness for the sharpness of the cheese.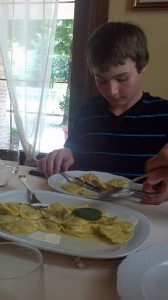 After the antipasti we had pasta.  Keeping with the theme of authentic, regional foods the pasta is kneaded and rolled by hand.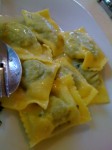 It came to the table as tortelli, three large platters with different fillings: pumpkin with ameretti cookies to add sweetness and the taste of bitter almond, potato with prosciutto for depth, and, my favorite, spinach, so light, and so, so delicious.  These were huge plates to share.  Unfortunately, I took too little in the beginning.  Before I knew it, all the pasta was gone.  Sharing food, especially excellent food, with two teenage boys can be dangerous.   After the pasta I had a small dessert of zuppa inglese full of rum and pudding of which I shared only a little.  The kids had a traditional almond cake which breaks apart like a cookie.  There were battles for the larger pieces.
Because it was lunch in summer we had a lighter meal than is possible at Trattoria da Probo.  Come Autumn the meat trolley begins.  Pork, of course, as well as veal, beef, lamb, and fowl are prepared in various fashions.   The entire selection comes to your table so that you can choose your meal.  Apparently this is traditional for restaurants in this region but now is rare.  Daniela told us people come from all over the world to this little town north of Reggio nell'Emilia for this experience.  She shared the business card of wine makers from Santa Barbara to prove her point.
We were lucky to tour Italy this way.  No standing in line for a major tourist attractions but rather sharing a meal of delicious, well made food.  No piece of chotsky as a souvenir of the trip but rather a souvenir waistline.