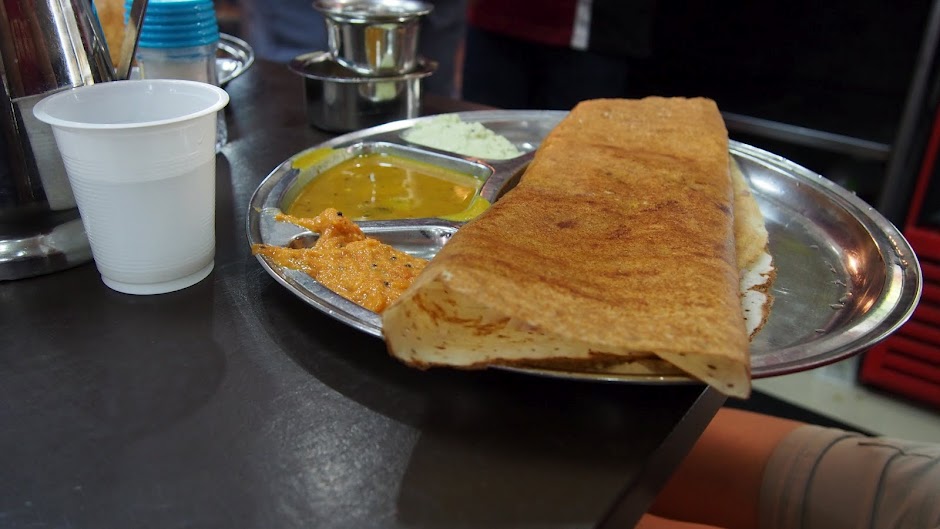 The guidebooks recommend two areas of Singapore for cheaper lodging: Chinatown and Little India.  Since we like Indian food so much I booked a room in Little India.  Our friend who is also spending the year traveling with her family questioned our decision.  After all, she reminded me, Chinese food provides fresher vegetables and more variety.  I remembered our longing for a vegetable we could recognize while we were in India.  Everything there had been cooked to mush to kill all the nasty germs.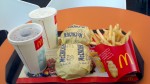 It was true we got tired of the food there.  But we would only be in Singapore for five days, and we wouldn't be eating in Little India the entire time.  We'd be out exploring other areas like Chinatown or the Marina.   In the end we ate plenty of Chinese food even within Little India.  We ate sushi and falafel. We even ate at a McDonald's.  (It was the only place around the science museum, and we wanted to hurry back to the exhibits.  They were cool.)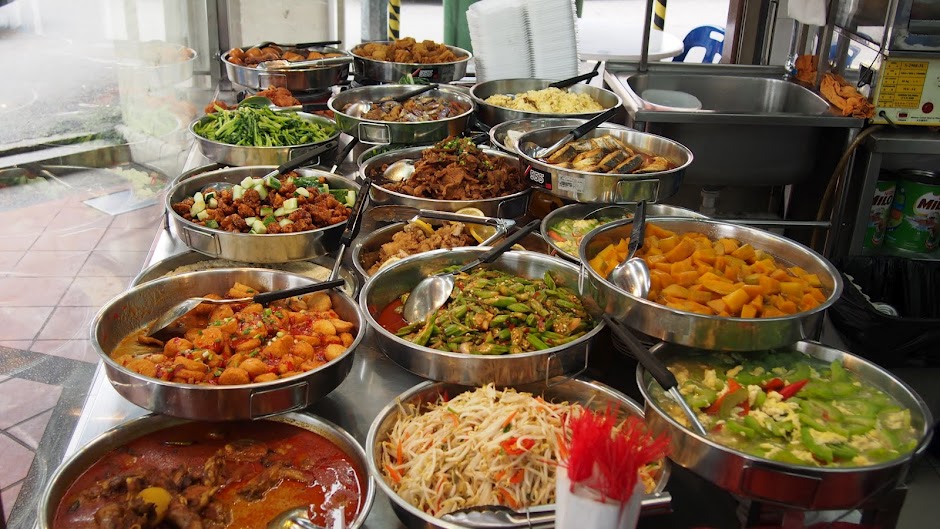 We knew Indian food would make us happier than Chinese.  To be honest it was a bit of a challenge eating in SE Asia.  I had a stomach ache of one sort or another in each of the countries we visited.  I could only assume it was from the food.  Some days I barely ate.  Also, Catherine is a hard core vegetarian.  There are very few dishes without fish sauce, or meat broth, or shrimp paste. Cat never dipped her spring rolls in the sauce provided in Thailand and Vietnam because of fear of fish sauce.  She stopped eating the peanut sauce in Indonesia when a cooking class revealed it was made with shrimp paste.  She never had soup for breakfast in Vietnam because even if there were no chunks of pork the broth was made with pork.  India, on the other hand, was easy for her.  The default menu was vegetarian.   Foods were always labeled non-veg if there was meat or eggs in them.  There was always choices for her on the menu.  Even most street vendors sold exclusively vegetarian food.  Little India would be an easy place for her to eat where she wouldn't be looking for the hidden meat inside a dish.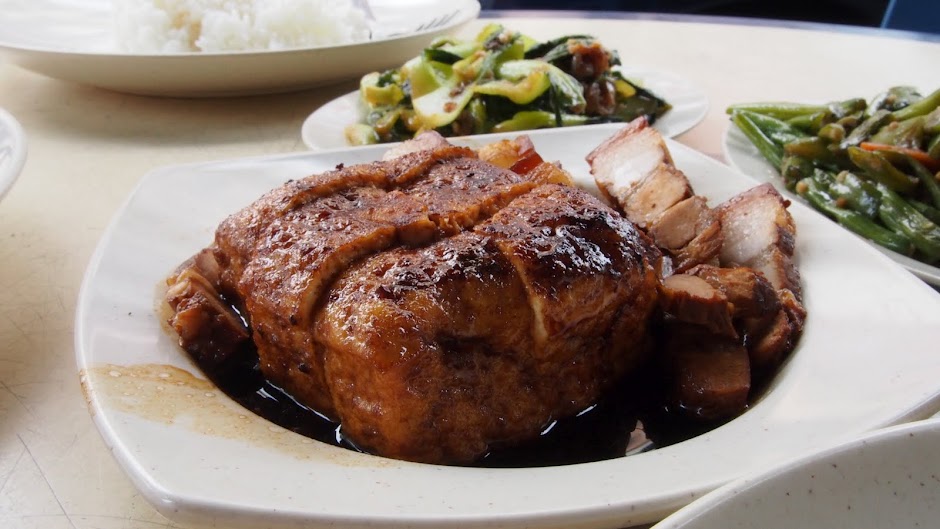 Before we got there we wondered how Singapore could house an India.  The cultures are so different.  India is defined by chaos.  Singapore is defined by order.  A taxi driver in Singapore told us no one likes to drive into Little India because the people are often wandering in the streets.  We laughed remembering the ox carts, bicycles, and pedestrians wandering the streets.  Even more difficult to negotiate were the cows just lying down in the middle of the streets of India.  In contrast Little India was so orderly and clean.  There wasn't the layer of dirt covering everything, we didn't fear that the dogs had rabies, and the litter was in the bins, not on the street.  It still had the same smells of India, the incense, the cumin, the coriander, but not the smell of the sewer or of burning trash.  It was kind of like a Disneyland version of India.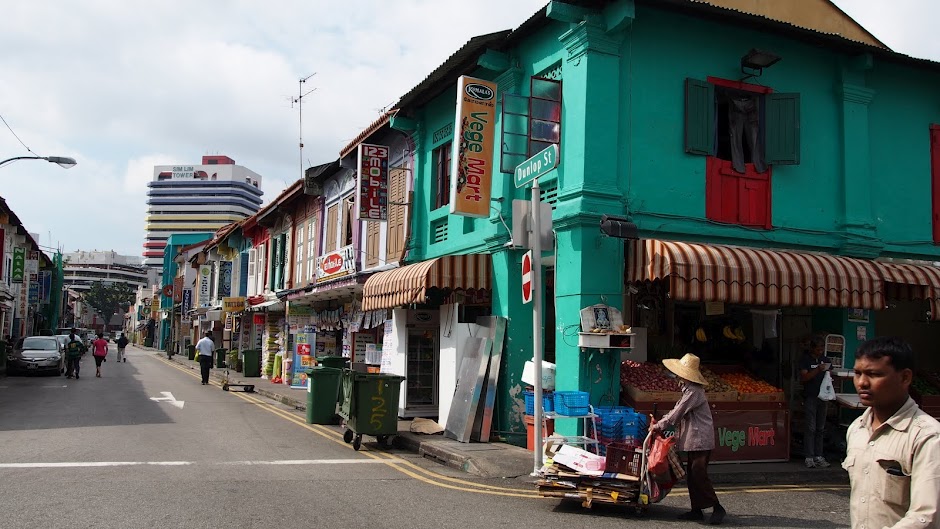 When we smelled those spices we were ready to eat.  Our palates for Indian food had been refined in Berkeley at a chaat house called Vik's.  Here they serve up dosas, uttapam, and puris with wonderful chutneys and sauces.  Sometimes it was hard to find food as good as Vik's even in India.  The oils used would be rancid, or the spices old or just not well balanced. Some of the sauces were scary as they were made in with the local water.  We were often disappointed.   Except at a small restaurant in Kochi, Kerala, Ananda Bhavan, where for a mere four dollars we had stuffed ourselves on huge plates of those very dosas, uttapam, and puris we loved.  This was the food we were looking for.
It wasn't at the first restaurant we tried.  It looked like a classic chain restaurant.  The samosas were fine, but the pani puri was thick and tough, not light and crispy as we'd had in Berkeley or India.  The tamarind chutney was too sweet, and the yogurt was like a thick blanket.  It masked the flavor of the potato curry inside.  It was a big disappointment.   It was not food as good as that small restaurant in Kerala.  It was not food like Vik's.  We had to keep looking.
We found it, though.  The restaurant, Komalas Vilas, was packed.  We waited for a place at a scratched stained vinyl table.  Once seated we each ordered a masala dosa, a thin, crispy pancake made from lentil and rice flours and filled with curried potatoes.  
 They were served in the traditional manner on a thali with sambar, a thin lentil soup, in the middle section, and two coconut chutneys, one mild, one spicy on either side of the sambar.  With our fingers (we tried to use just our right hands) we pulled off a chunk of the dosa and dipped it into the sambar and/or the chutney.  The spices were a perfect blend, and the crunch of the pancake melted into the softness of the potatoes.  We had found the dosas, as good if not better even than any we had eaten in Berkeley or in India.  They were accompanied by sweet, sweet chai and the most fruity mango lassis we'd ever had.  Granted the meal was about $20 instead of $4.  This was Singapore, not Kerala.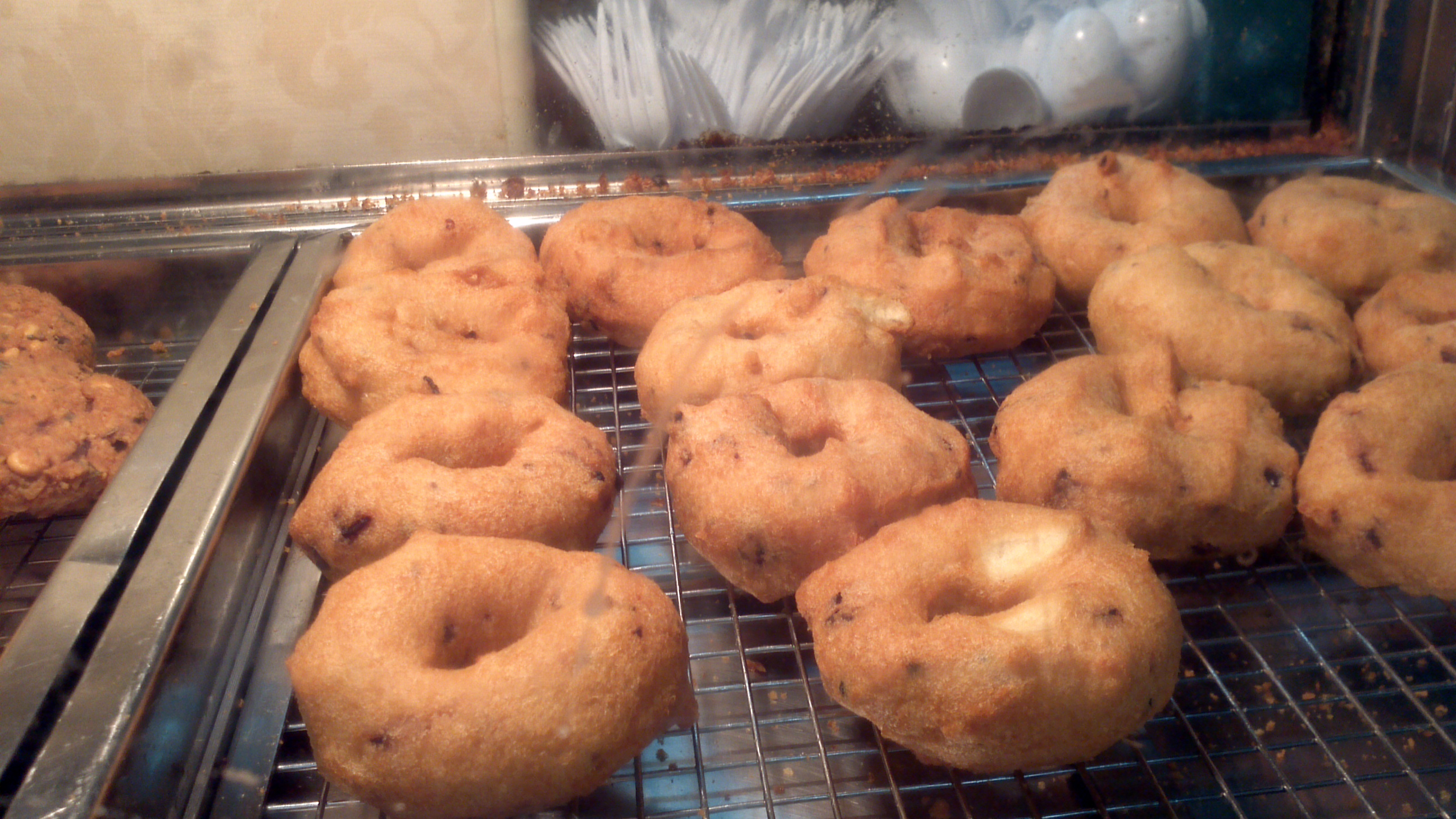 The next several mornings we returned to the same restaurant.  
We added vadai to our breakfast, spicy lentil flour donuts, crispy on the outside, soft on the inside, broken into pieces with our right hands and again dipped in the sambar and coconut chutney.  I ordered pongal one morning, rice and dal porridge with spices and cashews, again dipped with our fingers in sambar and coconut chutney.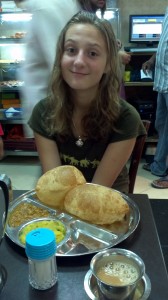 The rice and dal combination was reminiscent of masa, transporting us to Mexico.  I tried a dosa made with semolina flour instead of lentil, a rawa dosa.  It was more spiced than the regular dosa, still crispy, but the next morning I needed to go back to the original lentil and rice dosa.  Cat experimented and ordered a puri plate, puffed, fried rounds of dough that were served with a chickpea masala and potato curry.  We all tore off pieces of her puris, with our right hands, to dip into the yummy, spicy chenna masala.  It was a hit and became a regular at the rest of our breakfasts in Singapore.
The last morning was Bill's birthday.  We had to celebrate in a place we knew he would enjoy.   We went back to Komala Vilas.  This time we ordered two plates of puris and two of masala onion dosas and shared around the table.  Chai and mango lassis accompanied the food.  It was a delicious breakfast.  But it was a bit bittersweet because we were leaving Singapore.  That meant leaving the last of the really delicious Indian food we'll eat during our trip.   Hopefully, at home when we visit Vik's again, it will be as we remember it.  We'll stuff our bellies with dosas, puris, and chai and think back not just to India but to Little India, Singapore.