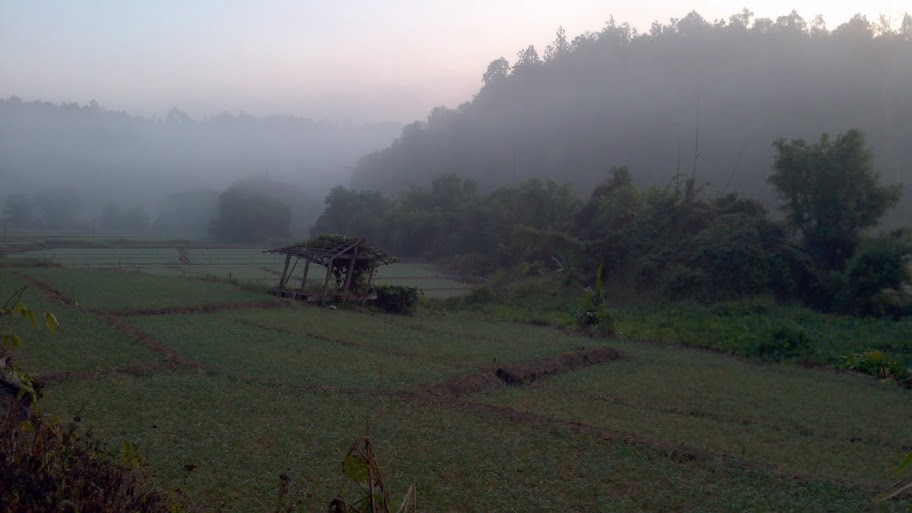 When Hank was in first grade, his class had some pen pals near Chiang Mai, Thailand.  They were kids from a small village attending a small school.  The school was run by a monk named Chinnaworn.  Our kids would send simple six year old drawings of life in Oakland with greetings in scrawled block print letters.  His kids would send back intricate pencil drawings of the Thai countryside with rice fields and elephants.  Small, neat Thai script would narrate the pictures.  One time Hank sent his own letter with photos of his sister and him.  In return he received his own package of letters and drawings.  Bill and I got a letter from Chinnaworn inviting us to visit the school and to even leave our kids with him for a couple of weeks.  This was our inspiration to visit Chiang Mai.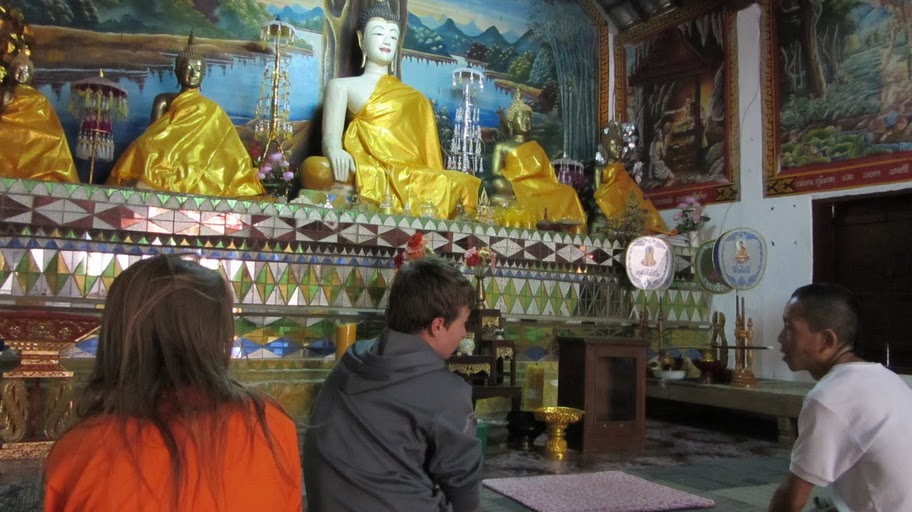 We learned before we left, however, that Chinnaworn is no longer a monk.  
He has assumed the name Pi Nan which he told us means "Brother Monk" in Thai.  But he now runs an organic farm near the same village where he was born, grew up, and taught school kids as a monk.  He invites volunteers in to help work the vegetable beds and gives them food and Buddhist teachings in exchange. We decided to spend five days with him.
To get there from Chiang Mai, we took a bus, a Chiang Mai bus.  It's really a small Toyota pick-up with a roof over the back and benches along the sides of the bed.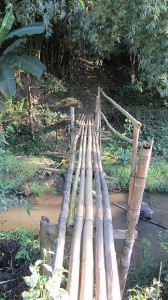 We started the trip with just our family in the bus, our backpacks on the top. After the first village we were fully packed in with old ladies, old men and babies as well as bags of groceries.  We stopped to let people out, let people on, or deliver goods from Chiang Mai to various people along the way.  The road was winding while riding in the back of a pickup.  It was difficult to not get carsick.  But the air was getting cooler, and the mountain scenery was beautiful.  When we got to our stop we had no idea which way to turn.  Our driver led us down a narrow path, over a bamboo bridge, and then pointed to a pile of structures across the rice field.  We made our way walking along the dykes, led by Daniel, a member of Pi Nan's long term visitors.  Daniel is tall, slender and gentle.  He's hoping to return to Germany to work on an organic farm.  It was young people like him that were visiting the farm.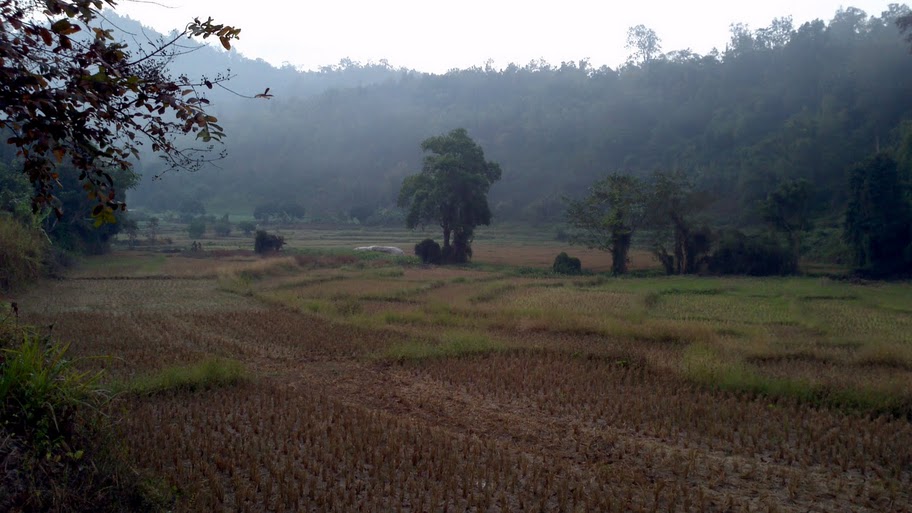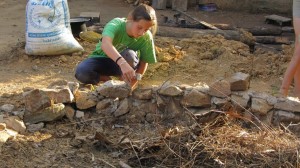 The farm is part of the backpacker route. Pi Nan told us it's in this month's Backpacker magazine.  Many people, mostly 20-somethings, visit sometimes for a few days, sometimes for a few months.  We met young people from Britain and France as well as Daniel from Germany.  They were young and strong, ready for the work that needed to be done.  And there was a lot of work to be done.  The farm recently moved sites to an area close to Pi Nan's hometown.   Mud bricks needed to be made to build mud houses, and gardens needed to be tilled, and plants needed to be tended.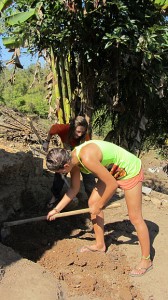 We hoed, weeded, transplanted, fertilized, and vitamized the gardens.  I was a proud mama as I watched my kids, hoes in hands, turning the soil.  These are city kids.  Their work mostly involves pushing pencils and computer mouses.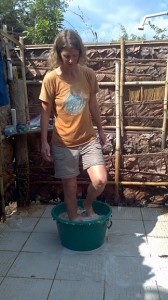 It was wonderful to watch them never hesitate when Pi Nan gave them a chore.  Cat spent hours building a shade structure for a newly transplanted garden.  Hank carried old vines and weeds into the composting fire, channeling his inner pyro.  We all got blisters and splinters.  I got a sore back.  It turns out I'm not 20-something anymore.  I took on the role of the middle-aged mom and the chore of laundry. There are a lot of blankets on the farm.  Not many had ever been laundered.  It turns out, blankets are a lot of work to wash by hand.  I hope to never again wring out a wet polyfilled comforter.  They're heavy.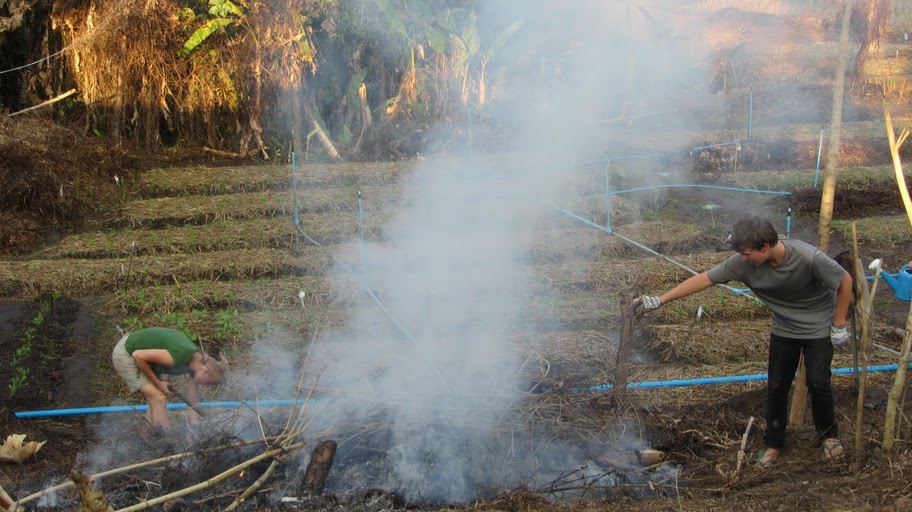 What we got back for all this hard work was home cooked, vegetarian Thai food, some cooked by Pi Nan, some by his mother.  
My favorite was spicy bamboo shoots and eggs.   It was nice to eat with vegetarians who ate eggs after a month at the ashram.  The visitors would cook as well.  I made pasta, fried rice, and Vietnamese style noodles.  We had tomato salsa, French toast and a lot of prik soy (our vegetarian version of the spicy Thai sauce with lots of chilis).   It turns out French toast is good with soy sauce, lime and chilis.  Most of the visitors ate it with sugar and fruit, though.
We also received an education in Buddhism.  Every morning as the sun was rising and the fog was lifting, Pi Nan would ask one of us read a meditation.  
One of the readings told us to feel our feet massaging the earth with each foot fall.  We were to focus on our steps as we walked out into the fields.  When we got to a good place to sit Pi Nan would ring a bell, and we would try to meditate for 15-20 minutes.  I could last maybe three minutes.  Cat maybe 20 seconds.  Bill sometimes just kept walking and never sat down.  After the meditations Pi Nan shared with us of some of his Buddhist philosophies.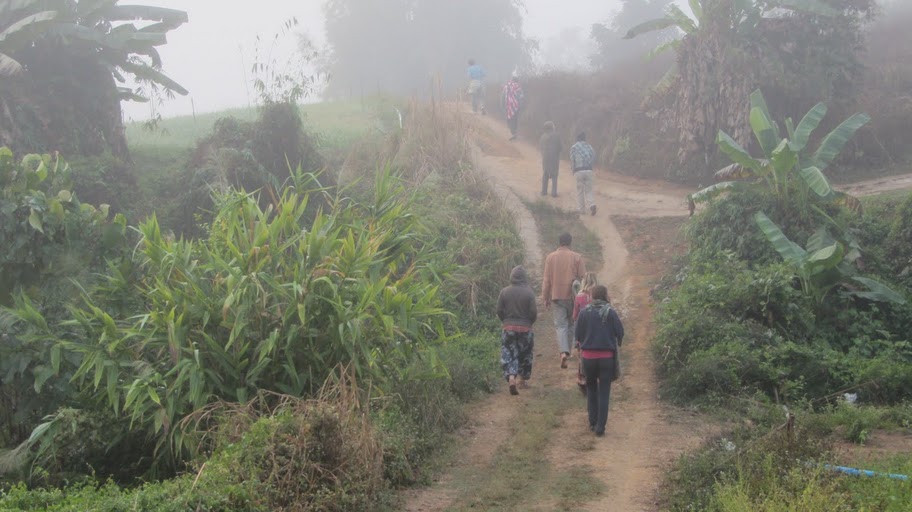 In the evening, after dinner, it was again time to meditate.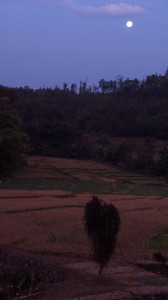 We walked out to the fields, this time in the light of the full moon.  The jungle made noises all around us.  The first night we wondered about snakes.   After that we began to trust the sounds of the night.  No longer afraid we just soaked them in.  There were different calls, different smells, and, of course, different light during the evening meditation than in the morning.  I still couldn't hold my thoughts still, but I was certainly in a peaceful place.  When my focus drifted I soaked in the beauty  around me.  The moonlight illuminated everything with its silver light.  The few stars that were bright enough identified themselves as constellations: Orion, Cassiopeia, Canis Major.  I was surrounded by nature.  My soul was in its element.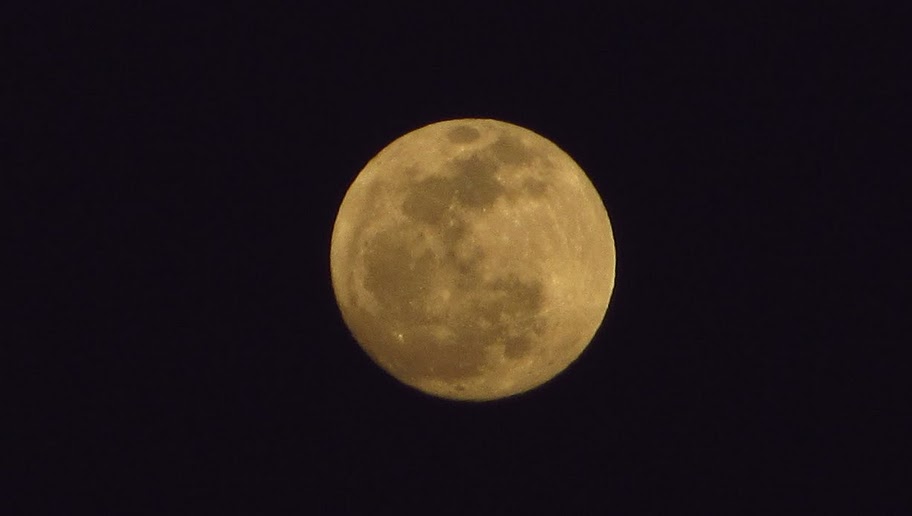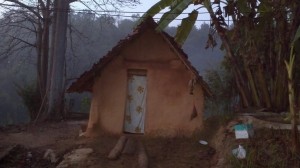 Over Christmas in India we'd spent our time in five star hotels.  It was luxurious.  I really liked it.  It was cozy and comfortable.  It was clean.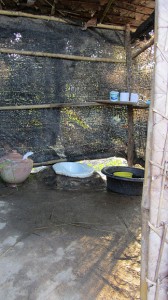 There were no rats or geckos or frogs in our rooms.  The water came in bottles and never needed boiling.  The toilets flushed, and the showers were hot.  At Mindful Farm we slept on dirty blankets on the dirt in our mud hut.  Bill and I spent one night listening to something rummaging through our stuff.  I pulled a frog out of the hut before bed one evening.  I had to take Vicodin to sleep through the pain caused by the hard bed and the cold.  But I woke up in the morning and was ecstatic, so full of joy.  I had found heaven.  And I was learning to spend the moment in the moment soaking it in.  I was learning to be mindful.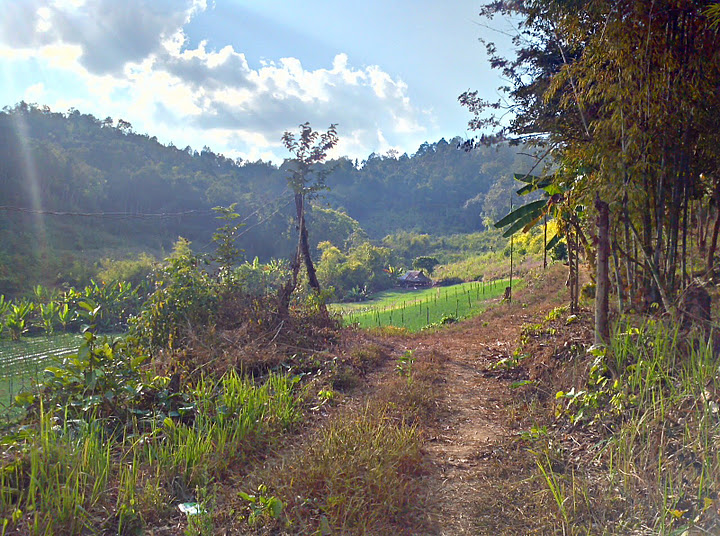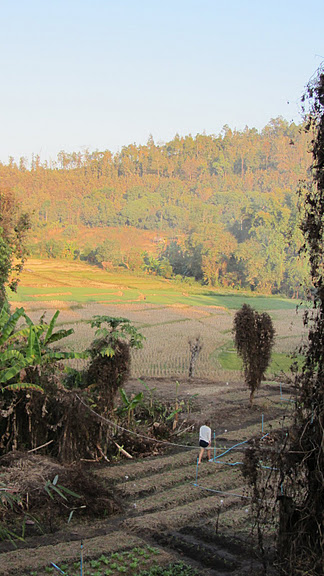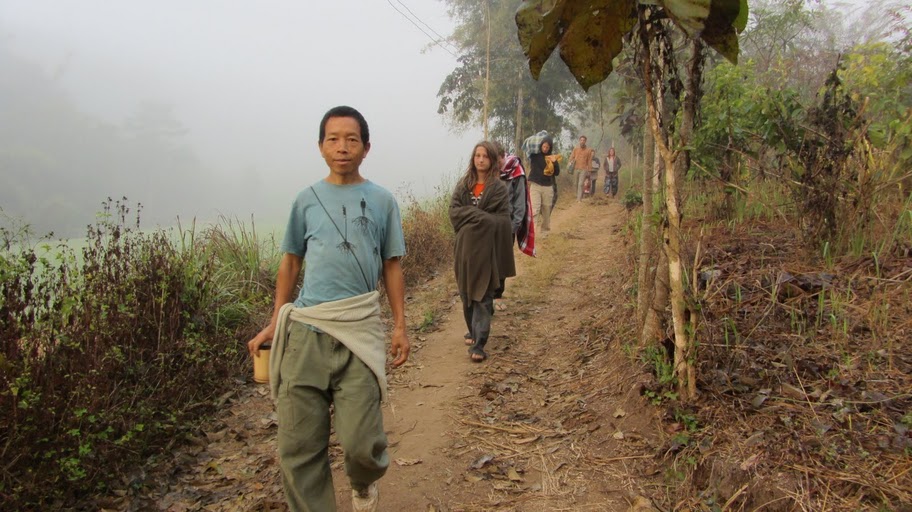 I have to thank Lucy for introducing Hank's class to Chinnaworn.  She knew a beautiful soul when she met him.  I got to experience his beauty and the beauty of the place where he lives because of her.  To see more about Pi Nan and his farm visit his website: http://www.mindfulfarmers.org/.  It's a little out of date as he's no longer in Doi Saket but rather his home village, Pang Term.  It's past Samoeng.  It's so remote and little the village isn't labeled on Google maps.