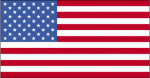 When we arrived at the train station in Bologna on July 3, our hosts, Daniela, Paolo, and Gigi were there to meet us.  As we drove to their home in Bagnolo in Piano we were greeted by a large American flag hanging in on their fence.  The Italians were ready to celebrate our independence from tyranny.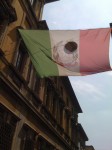 Our Fourth of July started in Reggio nell'Emilia, a small city near Bologna.  The town is not much for tourist attractions.  It has no must see sights in the grand Italian tour, but it has all that is Italian: the fruit seller giving my daughter a peach, the cafe/bar for a quick espresso as we wander the town, narrow alleys where no car can enter, piazzas in front of old churches, and people speaking with their hands.  Reggio is, of course, half the name of parmigiano reggiano.  It's also where the Italian flag was designed, the Tricolore.  Seemed fitting for a day of patriotism.
In the evening, all of Daniela's family and friends arrived.  Her mother and father, her sister and nieces, cousins with spouses, childhood friends,  friends of the children, and us.  The table was long.   An Italian flag was now hanging next to the American flag.   Pizza was served, a dish now as American as it is Italian.  The very Italian lambrusco and prosecco for drinking, however.  No Bud.
After dinner Daniela's sister, Chiara, brought out her karaoke machine to make an announcement.  It was set on reverb.  Her speech, spoken in Italian, sounded like a Mexican radio DJ.  ("Mas-mas-mas musica-ca-ca!")  She reminded us that this year is the 150th anniversary of the Italian unification.  July 4th is also the birthday of Giuseppe Garibaldi (here are quotes from this 19th century hero).   While Chiara was talking about American independence I noticed some movement out in the field across the street.  All of a sudden firecrackers exploded.  Then fireworks shot up in the sky.  Rising 40-50 feet above us they burst into multiple colors.  Real fireworks in a simple Italian country field.
The next morning we were talking about the fireworks and thanking Paolo profusely for making our holiday true to form.  We told him that fireworks such as those were illegal in the United States.  "You can have guns and rifles but no fireworks?" he asked.  What could I say?