Everyone asks where we're going.  The answer is, we're not really sure.  The rough plan is Europe, Africa, India, SE Asia, and Central America.   We're trying to leave the schedule a bit open to be able to follow what inspires us.
We do have some anchor points, however.  I am scheduled to volunteer in several places around the world.  I'll be volunteering as a pediatrician either teaching what I know and/or actually practicing medicine in these different places.  In most of the spots we'll be staying for a month.
I've included a lot of links in my descriptions below.   Follow the ones that interest you.  Be careful.  There are a lot of them.  You might get lost surfing the web.
The first place I volunteer is on Lamu, an island off of Kenya.   We will be there in September.   I will be working in a preventive health clinic there.  Although my role is currently not well defined, I hope to teach the medical workers about childhood health.  I'm thinking this will include lectures on nutrition, clean environment, and normal development.
In October we will head to Nairobi where I will work with my boss in his project with AIDS orphans. He would like me to help his health care workers by teaching about family planning.  He believes if we dispel many of the myths about birth control we can help women in the community to reach their full potential.  I'll be working with him within one of the slums in Nairobi: Korogocho.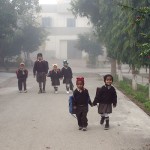 The next opportunity I have to work is in India in November.  A friend of mine has been the medical director at a clinic within an orphanage in northern India.  It was founded by Baba Hari Das who teaches yoga in Santa Cruz.  I'll be working in the clinic as a doctor there.   I hope to at the least give all the kids a check up.  I'll probably end up treating some tropical diseases I currently know nothing about.  That should be fun.  My kids are excited about spending time here as well.  They may end up at the school learning lessons from the Indian curriculum.  How different that will be from Park Day School.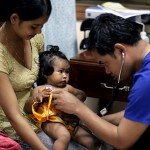 After India we head to SE Asia.  In February we'll be in Cambodia where I'll work for a month in the Agkor Hospital for Children in Siem Reap.  This will the the opportunity where I get to teach the skills I use here in the States, hospital based pediatrics.  I'm also excited about this part of our trip because we will living near Angkor Wat.  This is one of my top destinations when we first started planning this trip.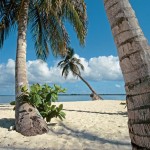 The last place I'll be working is on Roatan in Honduras in May.  I need to become more proficient in Spanish.  What better way than to spend time volunteering in a clinic in Honduras?  Doesn't look like a bad place to celebrate my 50th birthday either.
As a family we're hoping that the time we spend working in these communities will give us the opportunity to learn about the places and people we will be visiting.  We should be able to create unique memories and insights we wouldn't otherwise have.  Still much of our trip we'll be traveling as tourists.  Sometime soon I'll write about what we expect from European cafes, a Kenyan safari, Rajastan temples, Thai beaches, and Guatemalan ruins.